Kerbean [Kervin] 【ケルビん】
is a 20 yr. old boy who is currently studying in the
Philippines.

He's currently taking up
BS-Computer Engineering
at
De La Salle University - Manila.

He's a Filipino btw.

He likes photography and interested to learn more about it.

He's currently and forever will be addicted to
Morning Musume.

Also recently, his friends introduced him into the world of
College Volleyball (UAAP)
and it became one of his interests



If you want to contact me, try the links below: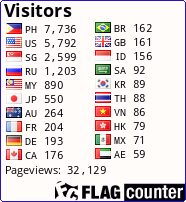 Minna-san gambatte!