Kerbean [Kervin] 【ケルビん】
is a 20 yr. old boy who is currently studying in the
Philippines.

He's currently taking up
BS-Computer Engineering
at
De La Salle University - Manila.

He's a Filipino btw.

He likes photography and interested to learn more about it.

He's currently and forever will be addicted to
Morning Musume.

Also recently, his friends introduced him into the world of
College Volleyball (UAAP)
and it became one of his interests



If you want to contact me, try the links below: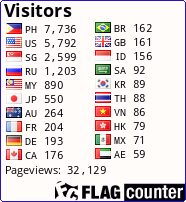 Minna-san gambatte!
yappi~!!!!
Posts tagged with in.
"Kuya, penge naman ng barya. Salamat!"

Rest in Peace, Jenny.

IT'S CONFIRMED. Jenny has really passed away. Like everyone else, i wanted to find out what really happened. So here goes…

Jenny lives here in Las Pinas near Saint Francis and our house. Sad to say, her wake is in Bacoor where her family lives. 

Nobody knows Jenny's real name and finding their address would be like a finding a needle in a haystack.

According to her neighbors who were talking about her, she was confined in PGH on Thursday due to a lot of reasons. Jenny had diabetes, high blood pressure and other ailments that i'm not sure of. The neighbors added that she would always eat food that's not so good for her health. She died on Friday, the same day the news broke out.

The neighbors added that Jenny's family was not poor at all. She had siblings in Japan and the US. She was here in LPC away from them because she was living in with someone before but they said that the guy eventually left. Ever since, Jenny has been going to taft from Las Pinas almost everyday for years now.

I'm sure a lot of students and teachers will miss one of the icons of taft. Let's all pray for Jenny's soul. :( Rest In Peace Jenny..

(gotten from Facebook, written by Lorisse Ramirez)

RIP JENNY. I used to ride the same bus as him a year ago. I wish there was some way that the Lasallians can visit his wake or something.
:(